So you've decided to become a TVSA blogger? Good for you. You must be a registered member of TVSA in order to create and publish a TVSA Blog - if you haven't yet registered do so then come back here to read this tutorial.

Register (opens in a new window)

Registered? Great. This is a tutorial to help you get your blog started.



Creating A Blog



Once you have registered as a full member of TVSA you will discover that you can start a blog from various places.



1. The main TVSA menu



You can create a blog from the main TVSA menu at the top of the site by clicking on Create Blog under Blogs.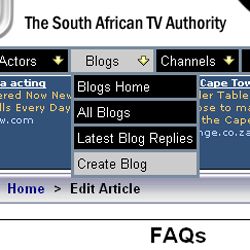 2. Your TVSA Gold Profile



On the right hand side of every page on the site you'll see you have a Gold Menu: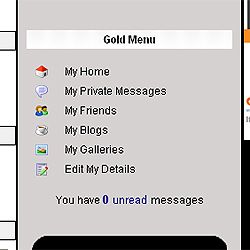 Click on My Blogs and you'll see the function: Add A Blog. Click it and you have a second way of creating your blog.

(Note: you can come back to My Blogs section once your blog's created to either access your blog or keep tabs on your various blogs if you have more than one.)



Fill in the fields for your new blog (title, url etc) and be sure to select the correct category your blog falls into. The categories are: TV, Celeb, Music, Sport, Personal, General.




This is very important because it will archive your blog in the wrong place on the site if you choose TV when you're creating a General blog.

Once your blog's created you're ready to blog. You can do everything you need to in your blog from your Blog Controls which serves as important menu.



The Blog Controls





Go into your blog

and you'll see your Blog Controls menu on the right hand side - it looks like this:



You can do everything you need to do in your blog from this menu. Here's an explanation on how to use each function:

Add Article

This is the most important function of your blog, for rather obvious reasons. When you are ready to get cracking with your first article, click the Add Article link.



Note:

You can only add a new article if you are on the blog you wish to add a new article to - if you click Add Article and you are not on your blog homepage you will not be able to add a new article.

The various elements of the Add Article page are as follows:



a) Title


Choose an appropriate title for your article. Be as creative as you like, but don't be obscure if you want people to read your article. The catchier it is - or the more informative it is - the more likely people are to read it.



b) Author


Here you can specify who you want the article credited to. It doesn't have to be the same as your TVSA Username - it can be anything you like.



c) Blurb


A blurb is a small summary or precis of your article and the format of TVSA Blogs means you must have one. You have a maximum of 160 characters for your blurb, with a little meter that will keep track for you of how many characters you have used (kinda like you get with SMS).

Do not exceed the limit of 160 characters, although your blurb can be as short as you like.

The purpose of the blurb is to give readers of your homepage a little more info about the article. All they have to judge whether they want to read your article or not is your title and your blurb, so make sure both have 'pulling power'.



d) Blurb Image


All blurbs come with small, square, 70x70 images. You are strongly encouraged to find pictures for your blurbs, although if you don't want to or can't a default TVSA Blogs image will be used instead, which looks like this:




Ideally you would add a new Blurb Image for each new article, but you might find that difficult. The functionality is there for you to do it is you wish.

We suggest that you at least find a standard avatar or image that defines either you or your blog subject matter, which you can use for all blurbs (eg. a Survivor logo for a blog about Survivor). Create it or save it on your computer in an easily accessible place.

Underneath the Blurb Image heading in your Add Article page there is a link to Image Upload - click it. A small Image Upload window will pop up (make sure your popup-blocker is set to allow popups on TVSA, if you have one), with two fields you need to fill in.

The first is the Insert Image field, with a Browse button next to it. Click the Browse button and find the image you want to use for your blurb.



Note:

all Blurb Images are 70x70 pixels, like the one above, but if you don't know how to crop and resize images don't worry - Blurb Images will be automatically resized for you.



Try to choose images which at least approximate a square shape, or they'll distort when they are resized. You may only upload images in the JPG format - other file types will distort.

Once you've selected the image you want to use move on to the second field in the Upload Image window - the Image Description.

Give your image an appropriate description so that it's easy to find in a list. You're going to need that list later and you need to be able to recognise your images by name.

Once you've done that hit the Upload button and you will be asked if you wish to upload another image. If you click Yes you will go back to the screen you just came from to repeat the process. If you click No the window will close and you can move on.

The purpose of asking if you wish to upload another image is so that you can upload a range of images to choose from later. But you don't have to upload more than one.

If it's a standard Blurb Image you will be using for all articles then you obviously only have to upload it once - the first time. Thereafter you can simply ignore the Upload Image function when adding new articles.



e) Article Content


Once you've done your Blurb Image you can write your article in the Content Edit Box. It's an HTML-enabled edit box, which means you can do all sorts of fancy things with your text.

Explore the various icons above the box by hovering your mouse over them to see what they are.






Note:

You can't put HTML code into the Edit Box, or it will appear as code in your finished article. If you want to put links or images in your article be sure to use the appropriate icons in the Edit Box to perform the process.

Advanced HTML users can use the Source button to completely customise their articles using HTML.



f) Publish Start Date


Select the date you wish your article to be published on. It is set to the default day you are on, so you can simply leave it as is unless you want to set it to publish at a future date, or to be back-dated to a past date (the future date feature isn't enabled yet, so don't use it if you want to save an article for later).

In future versions of the site you will be able to select the time you want articles to appear as well, so you will be able to write an article and set it to publish a week later at noon.



g) Publish End Date


This is set by default to 2010 (it will be changed later to be indefinite), so you can normally leave it alone.

You may however write an article that you only want published for a short period of time - if you wish to expire any article then set the expiry date here.



h) Syndication


This is a feature of the blogging system not yet installed. Leaving the tick box checked means your article will be added to an RSS feed automatically, which can be submitted to any sites that take RSS feeds or to RSS readers.

If you uncheck the box your article will not be included in any feeds.

We recommend that you leave it checked.



i) Active Article


If you choose to mark your article Active it will be published immediately. If you uncheck the box to mark it Inactive your article will still appear on your List Articles page but will not be published and therefore not visible to anyone other than you.

This is useful for previewing your article before it gets published to the masses - if you uncheck the box and make it Inactive only you will be able to see it.

As soon as you want to mark it Active - which will instantly publish it on your blog - you simply edit your article and check the box again.



j) Replies


Most bloggers want to get replies to their articles - leaving this box checked will allow readers to reply to your article.

If you uncheck the tick box nobody will be able to reply to your article.

And that's it. If you're satisfied that everything is correct then click the Add Article button. You will be taken to a page that gives you a link to your newly-created article, as well as a Blurb Image selector.

Select the Blurb Image you wish to use from the drop-down box. You will see all images you have uploaded in that list, including the one(s) you uploaded in Step 4 above.

If you forgot to add an image and there are no images in the list, then simply mouse over the Blogs link in the menu and click Upload Images (opens in a new window).

Click Add Blurb Image to complete the process of adding your article. You will go to a page which gives you a link to your new blog homepage - click the link to see your blurb in action.

Edit Articles

Once you've created your first article (or your 2nd, or 1000th) you can click your List Articles link in the Blogs menu to see a full list of all the articles you have on your blog.

Here you can perform four actions on any given article: Edit Article, Change Blurb Image, View Article and Delete Article. Hover your mouse over the Action icons to see which each is.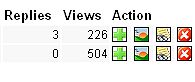 Click Edit to change any aspect of your article, click Change Blurb Image to change the blurb image of that specific article, click Delete to delete any article and click View to view any article.

Image Upload

The Image Upload link in your menu is there for you to upload any images you think you might want or need - for both your articles and your blurbs.

Click Image Upload and you'll get this pop-up that allows you to upload your picture to your blog: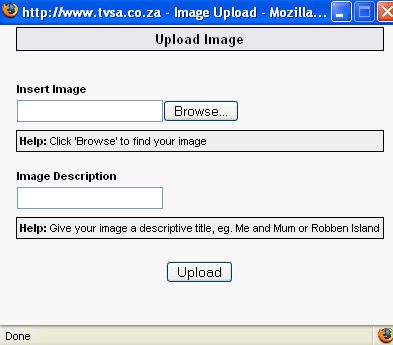 Place your cursor in the position you'd like your picture to appear and click Insert/Edit Image:




The Image Properties page will pop up - you can now Browse to find the image you desire.



If you'd like you can fill in the Alternative Text field with a description - an alt tag makes text appear when you hover over an image with your mouse. If you'd like to resize your picture, give it a border or align it, fill in the fields.

Click OK and your picture will be placed in your blog.

Give it a try with the following image:




Any image you add will be stored in your blog and you can use them at any time in articles by clicking the Insert Image icon in the Content Edit Box when adding or editing an article.

Blog Settings

This is where you edit your blog settings. The various elements of the Blog Settings page are as follows:



a) Title


If you don't like the title of your blog change it here.



b) Description


A description of your blog or a quote or other text, which will appear beneath your blog title header on all pages (max 160 characters).



c) Show Blog Description


You have the option to display your blog description or not. Check the box to display it.



d) Receive Reply Notifications


If selected you will receive notification emails whenever someone replies to one of your articles. For this purpose you must have a valid, working email address specified in your Admin > User Settings



e) Custom Area (RHS)


This is where you can add custom elements to the right hand side side (RHS) column of your blog, underneath any TVSA promotions. Suggestions for this area are external links or links to past articles of yours you want people to see.



f) Custom Area (Blog Home Page)


This is where you can add custom elements to your blog home page. Suggestions for this area are external links, advertising banners (your own, or banners someone pays you to display) or Blog-specific info or titles. This info will be displayed above your blurbs/articles in the centre of the page.



g) Javascript


For advanced users. If you need to put javascript in your RHS you may do so, although please bear in mind that abuse of this feature will not be permitted. You can use javascript to rotate a banner, or call a javascript feed from a third pary.

Please use responsibly.



h) Blog Homepage Format


This is where you specify the layout format of your blog homepage. You can choose either Blurbed (default) or Inline. Experiment with the two to see the difference.

You can also choose how many blurbs/articles you want to display on your homepage, depending on whether you chose a Blurbed or Inline format.

Once you've made any changes to your blog settings click the Update Blog Settings button to view your changes.

Add Blog

Use Add Blog to either create your first blog or add a new blog.

You can have as many blogs as you like on TVSA. For example you could have a Survivor blog and an Amazing Race blog, or you can simply have one for the two shows.

The advantage of owning more than one blog is that you can theme each blog according to the subject and category you are writing about.

View All Blogs

You can view all your blogs from your TVSA Gold Profile. Go into your profile, click on the My Blogs tab ...




... and you'll get all your blogs and the function to create another.

RSS Feeds

This function allows you to add the headlines of your blog to other wesbites. If you'd like to send people through to your blog on TVSA you can create an RSS feed, place it on another site and readers can click through to your blog. For FAQ's on setting this up - click on RSS Feeds function in your blog menu.

-----



TVSA Bloggers Forum



This is a special area on the TVSA forum where you can post questions, read any updates to the blogging system and get any information you need to know.

You can access it here: TVSA Bloggers Forum.

Please note: you have to be a registered member of the forum to post. This requires a separate registration so if you aren't a member yet, sign up here.

-----

And that's that. It may seem like a lot at first, but once you've created your first article you'll find it's really easy.

If you have any questions about any aspect of creating blogs or publishing columns, be sure to post them on the TVSA Bloggers Forum.

Good luck and have fun!