The Voice 2: Cee Lo's two 'J's' own the show
| | |
| --- | --- |
| Friday, May 04, 2012 | |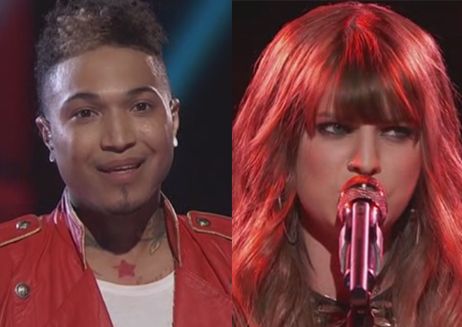 Cee Lo's team debuted their live performances in a blitz of bombliness on The Voice on Wednesday night with superb performances by Juliet Simms and Jamar Rogers.

Both of them were outstanding and despite the earliness of the competition, they firmly established themselves as strong contenders for win. Their memorable and engaging performances will serve them strongly for weeks to come.

Who's going to get the chop on Saturday*? My predictions:



Team Cee Lo



Bottom three predictions:


James. The coaches needed a smack for how they all gushed about him. He was as awful as he's always been.



Erin

who continues to disappoint. Did you hear Cee Lo saying "Don't make a fool of me."? It was just after he saved her during the Battle Round, in a clip we didn't see at the time.



Cheesa

- because of all that sparkle she wore on her eyes that made my eyes itch. Also, I can't remember what she sang.

I predict Cee Lo will save James because he'll think the girls might still buy into him.



Safe:

The two "J's" and Tony Vincent.




Team Adam




Bottom three predictions:



Pip.

The poor guy - he was like Harry Potter trying to be Marilyn Manson. I was stumped that Adam didn't try to guide him away from the bizarre "rock" choices he made. It suggested that Adam doesn't know what to do with him.



Tony Lucca

- sadly. I thought he was super but I'm concerned that the voters are going to listen to Christina. I was unbelievably shocked at how she responded to him when she told him he was one-dimensional. The

way

she said it too, it was a such a low blow, as if she wanted to really hurt him. It obviously has to do with them being on the Mickey Mouse Club together and her being the bigger star, like she wants him to "know his place", brrrrrr.



Karla

who? She's bizarre. She has a cool enough voice and she's kind of interesting but she doesn't have nearly enough voomah nor clout.

Adam will definitely save Tony because there's no ways the other two are better.



Safe:

Mathai, Kristina and Kim.

*A reminder that the Results Show is on SABC3 on Saturdays at 18h00.



Replies: 6

You must be a TVSA member to post a reply
| | | | |
| --- | --- | --- | --- |
| Reply from: | tzhavile | | Friday, May 04, 2012 10:32 AM |
Juliet Simms snag the hell out of that Red Light number! she was my favourite! am rooting for her to win this thing! her and Jesse!
| | | | |
| --- | --- | --- | --- |
| Reply from: | Naguil | | Friday, May 04, 2012 11:09 AM |
juliet was da bombbbb but i like jordis she must win

| | | | |
| --- | --- | --- | --- |
| Reply from: | myname | | Friday, May 04, 2012 15:14 PM |
* so sad coz im stuck in the library around this time and im finishing my exams on the 4th of June* mmmmmmmmmmmfffffiimmmmmmmmmm

Thanks Tashi.
| | | | |
| --- | --- | --- | --- |
| Reply from: | Sobza | | Friday, May 04, 2012 16:10 PM |
Jamar's performance was awesome, I didn't pay much attention to Juliet as I was busy with my phone. All the other performances were just average as far as I am concerned.
| | | | |
| --- | --- | --- | --- |
| Reply from: | number1 | | Friday, May 04, 2012 21:16 PM |
Juliet Sims was orgasmic on that song. Absolutely loved it. She must win.
| | | | |
| --- | --- | --- | --- |
| Reply from: | Name here | | Friday, May 04, 2012 22:41 PM |
This week's performance went down a couple of notches from last week. Jamar and Juliet really stood out. Cheesa gave a much better performance than she did in the Battle Round.