Coming up on Oprah:



Monday, 23 May 2011




Whatever happened to MC Hammer, Bo Derek and Pam Grier?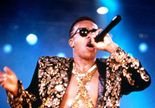 In the early '90s, you couldn't go anywhere without hearing MC Hammer's "U Can't Touch This" or seeing someone wearing his signature parachute pants.

His album Please Hammer, Don't Hurt 'Em is still one of the best-selling hip-hop albums of all time. Forbes Magazine estimated Hammer's net worth at more than $33 million in 1991. But, just five years later, Hammer, born Stanley Burrell was reportedly in debt to the tune of $13 million.

Oprah finds out what MC Hammer's up to now.

Plus, it was 1979 when the movie 10 hit the big screen, launching Bo Derek, a sexy blonde with braids, into overnight stardom. Her photo was everywhere on the covers of magazines, as well as respected newspapers.

For more than 30 years, Bo Derek has lived outside the spotlight. Why she gave up the glitz and glam.


---
Tuesday, 24 May 2011
A TV first: Donald Trump and his five children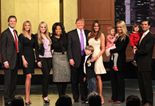 For the first time, Donald Trump has flown his wife, Melania, and his five children to Chicago for their first television interview together. Oprah finds out more about the "family man" side of Trump.




---
Wednesday, 25 May 2011
The Untold Secrets Behind Michael Jackson's Controversial Album, Plus Author Jonathan Franzen and Oprah's New Book
Michael Jackson couldn't go anywhere without being hunted by the paparazzi and yet he had a secret hideaway at the home of a New Jersey family. Michael recorded songs in their basement and had been regularly visiting their home for 25 years. Almost nobody knew about it.

For the first time, a family comes forward about their 25-year secret relationship with Michael Jackson. Plus, Oprah's new book club pick for the holidays.


---
Thursday, 26 May 2011
Christie Brinkley, Beverly Johnson, Stephanie Seymour, Cheryl Tiegs And more: Supermodel Legends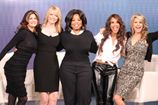 They're the supermodels, the "it" girls of the '70s, '80s and '90s who graced the covers of hundreds of magazines, strutted down the catwalk and took over your television.

Oprah hosts the ultimate supermodel reunion. The catwalk, their careers and how they really feel about aging. Plus, a rare look inside Christie Brinkley's Hamptons retreat.


---
Friday, 27 May 2011
Exclusive: Raped By Their Father And Brothers - Twin Sisters Come Forward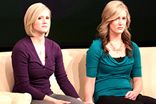 Kellie Henderson was just a child when she was forced to do the unthinkable: stand guard for her oldest brother Andrew while he raped her twin sister Kathie in the basement of their family's Wichita, Kansas, home.

Kellie knew all about the horror Kathie was going through because it was happening to her too. According to the twins, Andrew started molesting them when they were 5 years old and he was 10.

At a time when most kindergartners are having play dates and living carefree lives, Kellie and Kathie were being fondled and molested in their own home at the hands of a sibling and a father.

After years of living in fear, Kellie and Kathie worked up the courage to tell their mother what was happening. What their mother has to say and how they escaped.


---

The Oprah Winfrey Show is on SABC3 Mondays to Fridays at 17h30, with repeats at 00h50.