New on SABC3 In February 2010
| | |
| --- | --- |
| Tuesday, February 02, 2010 | |
Starting on SABC3 in February, 2010:



Cory In The House

2




Premiere date:

Wednesday, 10 February 2010 at 19h30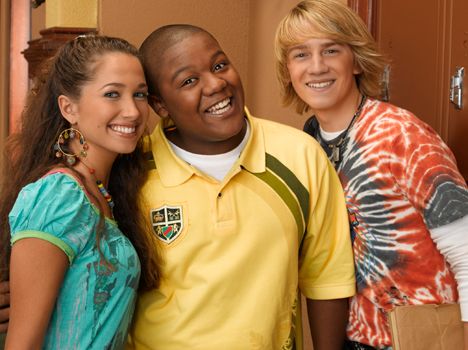 A series spin-off to That's So Raven, Cory In The House centres round Cory Baxter who is now living in Washington, DC, where his father Victor has been named presidential chef to the newly elected President Martinez.

Cory's new setting takes some getting used to though - particularly living with his father in the staff quarters of the White House and attending an exclusive private school with the kids of Washington's power elite.

Cory, who has some schemes of his own, must also contend with the president's precocious 8-year-old daughter Sophie. As his new life inside the Beltway begins, Cory has new friends in Meena, an ambassador's daughter, and Newt, heir to a political dynasty, but a nemesis in Jason Stickler, son of the CIA chief.



Fast fact:


Season 1 was broadcast last year, on Sunday mornings at 09h00.


---



Nip/Tuck 4




Premiere date:

Thursday, 25 February 2010 at 22h15


Runs Tuesdays to Thursdays at the same time, for a 15-episode season.





Season 4 starts a new chapter after the Carver (Quentin Costa) and his assistant (Kit McGraw) were revealed in the finale of Season 3.

Pregnant Julia learns that there is something wrong with her unborn child - a fact that she keeps from Sean as long as she can.

Sean wants regain his sense of family, but his relationship with Matt grows more distant. The biological son of Christian, Matt is isolated and moody, and he projects his anger towards those who love him the most.

Conflicted about his love for former model Kimber - a beauty who became an adult video star and director when her attempts at a legitimate acting career failed - as well as about his friendship with Sean, Christian seeks the help of a psychiatrist.

Having been kidnapped by the Carver on her way to the altar with Christian and tortured by her abductor, Kimber made it safely back to Christian, only to reject him and his ideals of beauty and perfection.

Now she seeks comfort and safety through spiritual means, and tries to help Matt do the same.

Often the only voice of reason in an otherwise unpredictable environment, bright and caring anesthesiologist Liz, a confident and outspoken lesbian who has earned the respect of her physician colleagues, is tough on the surface, yet she shows warmth and concern for her patients and for Sean and Christian.


---



Replies: 2

You must be a TVSA member to post a reply
| | | | |
| --- | --- | --- | --- |
| Reply from: | ThatDude | | Tuesday, February 02, 2010 14:50 PM |
Thank goodness nip/tuck is bad,miss the chaos
| | | | |
| --- | --- | --- | --- |
| Reply from: | Crazy Jess | | Tuesday, February 02, 2010 15:57 PM |
Ravern, 19:30??? They gotta be kidding. They should play that during the day for kids!!







01/04/2013




07/03/2013




07/02/2013




09/11/2012




11/10/2012



Total Views: 245240
Total Replies: 200