New on SABC3 in February 2009
| | |
| --- | --- |
| Monday, January 26, 2009 | |
Starting on SABC3 in February, 2009:



Las Vegas 5




Premiere date:

Monday, 2 February 2009 at 21h00


Number of episodes:

19



Las Vegas returns for it's fifth season.

TVSA's Las Vegas 5 Show Page.


---



Psych




Premiere date:

Wednesday, 4 February 2009 at 20h31


Number of episodes:

15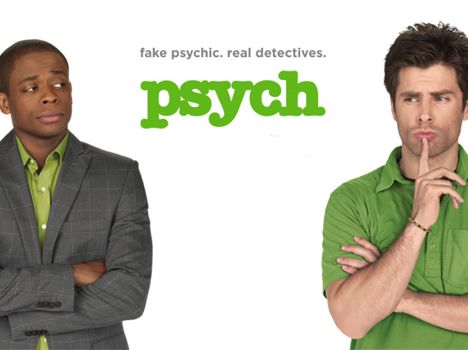 Psych is a comedy drama series starring James Roday as young police consultant Shawn Spencer who solves crimes with powers of observation so acute that Santa Barbara PD detectives think he's psychic.

Psych also stars Dulé Hill as Shawn's best friend and reluctant sidekick, Gus, and Corbin Bernsen as his disapproving father, Henry, who ironically was the one who honed his son's "observation" skills as a child.

Raised in Santa Barbara by a family of cops, Shawn possesses uncanny powers of observation honed by Henry, who drilled young Shawn to note even the smallest of details from his surroundings as a way of grooming him for his inevitable career in the family business.

Unfortunately, when a rift develops between father and son, Shawn finds himself taking a series of random jobs instead of becoming the detective he was groomed to be.

However, for the fun of it, Shawn makes a habit of calling in tips to the police about cases he reads about or sees on television, and when one of his tips appears too close to the truth, the police are convinced that Shawn is an accomplice and arrest him.

Using his charm and well-tuned talent, Shawn convinces the cops that he's actually a psychic, and although highly skeptical of his explanation, they hire him to help solve tough cases.

With the reluctant assistance of his best friend Gus, Shawn uses his skills of observation and charismatic personality to become the detective he was trained to be, opening his own PI agency - Psych - and solving cases for an ever-suspicious, but grudgingly impressed, police force.


---



Andy Barker PI




Premiere date:

Thursday, 5 February 2009 at 21h30


Number of episodes

: 6



A six-art comedy about Andy Barker (played by Andy Richter) - a happy and successful CPA who decides to take a risk and open his own accounting business.

He moves into an office formerly owned by a private investigator. Unfortunately for Andy, his life-long lucky streak comes to a sudden end when his business goes down the tube. Just when he thinks he's lost it all, a case of mistaken identity transforms Andy into a private detective - with a formidable talent for math.

His number-crunching skills help him to become a great P.I., but his two careers continue to intersect in hilarious and unnerving ways. Andy will try to solve cases using his accounting knowledge.

The cast also includes Paget Brewster as Jessica, Jonathan Slavin as Byron, Irene Molloy as Wendy and James Patrick Stuart as Keith.


---



The Amazing Race 11




Premiere date:

Tuesday, 24 February 2009 at 19h30



TAR returns for it's eleventh season and this time round it's an All Stars race, featuring past teams who return to race again.

To see which teams are in the cast, as well as the previous seasons they're from, check out TVSA's Show Page: The Amazing Race 11.


---



Replies: 4

You must be a TVSA member to post a reply
| | | | |
| --- | --- | --- | --- |
| Reply from: | alex | | Monday, January 26, 2009 09:35 AM |
Rather promising line-up of new and returning shows.

I'm just psyched (ha!) for TAR and Psych I've seen some of and its fab!
| | | | |
| --- | --- | --- | --- |
| Reply from: | CHRISTELLA | | Friday, March 06, 2009 19:56 PM |
i have cried and cried and cried and it seems like nothing will happen so this is my last cry and if you do not hear me ,than its fine.can you repeat TAM saturday at 14;00 so that us who work night shifts can also have a chance to watch the show.plese please please please........................................
| | | | |
| --- | --- | --- | --- |
| Reply from: | Cnglemother | | Friday, March 06, 2009 20:14 PM |
Ag shame chris look 4 anada job lol!
| | | | |
| --- | --- | --- | --- |
| Reply from: | Teeza | | Friday, March 06, 2009 20:50 PM |
The two TAR episodes have been great. C/mama who's in ur last 3?







01/04/2013




07/03/2013




07/02/2013




09/11/2012




11/10/2012



Total Views: 246047
Total Replies: 200