Spoiler-free TV news for South African viewers
Jenna Elfman Sitcom Heads For e.tv In January
| | |
| --- | --- |
| Friday, November 23, 2007 | |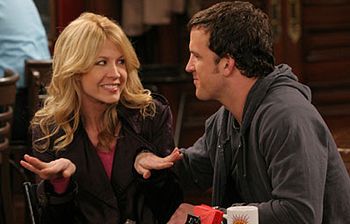 e.tv has announced the acquisition of Courting Alex, a sitcom starring Dharma & Greg beauty Jenna Elfman, which will premiere on the channel early in January next year.

Elfman plays the title role of Alex Rose, an attractive and successful young attorney who has no social life. She works at her father, Bill's (Dabney Coleman; The Guardian) law firm in New York.

Bill, more than anyone would like to see his daughter in the dating scene and tries to set her up with fellow lawyer, Stephen (Josh Stamberg; Studio 60 on the Sunset Strip).

Though she is not interested, Jenna still wants to find a man and has her close friends supporting her endeavours.

They are her British neighbour, Julian (Hugh Bonneville; Tsunami, The Aftermath) who is an artist and her brutally honest and loyal assistant, Molly (Jillian Bach; Two Guys, a Girl and a Pizza Place).

Alex meets Scott (Josh Randall; Ed) while in court defending a giant corporation who wants to demolish his grandfather's pub. Scott is a spontaneous and a worldly gentleman who is not swayed easily.

Alex falls for Scott's irresistible charm but fraternising with the opposition is forbidden.

The series was cancelled on CBS after only eight episodes had aired, although 12 were filmed in total (e.tv will screen all 12).

The show has a Metacritic rating of 39/100, based on 19 reviews from some of the top American television publications.

According to the Hollywood Reporter the show is "simultaneously sexy and relatable, (and) Elfman wins us over with a convincing performance that shows vulnerability just beneath a placid surface."

The Los Angeles Times, however, called it "neither a disaster nor a triumph" while USA Today called it "nothing if not dull". According to the Boston Globe it is "a charmless sitcom with absolutely nothing original in it."

You be the judge when Courting Alex premieres on e.tv on Wednesday 2 January 2008, at 20h00.



Replies: 4

You must be a TVSA member to post a reply
| | | | |
| --- | --- | --- | --- |
| Reply from: | alex | | Tuesday, November 27, 2007 03:58 AM |
It really annoys me that SA channels will continue to buy US content even if they performed poorly overseas. Next thing you know we can probably expect Viva Laughlin on etv next.

Isn't their money best invested in quality shows that will at least be worth tuning in for every week? They're not doing themselves any favours with this drek.
| | | | |
| --- | --- | --- | --- |
| Reply from: | charmed_dude | | Tuesday, November 27, 2007 05:15 AM |
Ummm I think channels purchase shows before thier even tested on US Networks, around about in May when the channels unveil thier schedules to advertisers, I think thats they same time they sell thier shows interenationally. So based on piolts etc thats the decision the channels make...
| | | | |
| --- | --- | --- | --- |
| Reply from: | Segololo | | Wednesday, November 28, 2007 03:28 AM |
Eish! Why the hell didn't they buy "How I met your mother?" season 2!!!!!????

I like Jenna so I will watch with "enthusiasm"... well, hopefully the Americans just have too many high expectations!! We are used to watching a lot of crap like the ENTIRE gazillion seasons of "Walker texas ranger" that this could be a better buy than that! So there's hope, peeps! there's hope!
| | | | |
| --- | --- | --- | --- |
| Reply from: | witty lady | | Wednesday, November 28, 2007 03:36 AM |
Iyoo guys did you see ukuthi SA did again stole an american show!!
it's like amazing race only BORING!! It was on izolo at 19h30!! shuu
i think its called magic? mountain? I even forgot the name of the boring show.