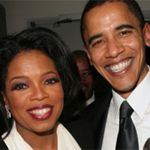 On Sunday (3 January 2010) at 18h00 M-Net will be broadcasting Christmas at the White House: An Oprah Winfrey Special.

A one-hour show, the special was filmed in HD and was broadcast in the US on Sunday, 13 December 2009. It features Oprah visiting the White House to interview President Barack Obama for the first time since he took office.

President Obama and his wife Michelle share details about their first festive season in the White House and give a look at what goes on behind-the-scenes in preparation for the holiday season. The family also take Oprah on a tour of the White House.

A sneak peak of the interview: President Obama makes a surprising disclosure about how he would grade his performance in office so far.

The special replaces the previously scheduled

Cirque du Soleil Presents Flow.




---