Freedom In The Fast Lane
| | |
| --- | --- |
| Monday, June 19, 2006 | |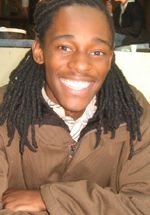 Being the type who'll do anything to get the juiciest story I possibly can, hooking up with Freedom Hadebe seemed the purfect thing to do during my visit to the set of 7de Laan.

Freedom, who plays Hillside Times's camera-flashing newshound Mandla Khumalo, had just finished filming a scene involving him rushing around like a wild thing covering a story about Matrone bossily dressing everyone up in green plastic bags:



Tashi:

What's the best thing about playing Mandla?


Freedom:

He's so motivated and inspired. He's a go-getter. There's nothing that stands in his way. If he wants something he goes out there and gets it. That's the one thing I love about Mandla – he doesn't give up easily. Here and there I've got some of these qualities.



Tashi:

So he's similar to you?


Freedom:

Ja very much so.



Tashi:

So you don't take No for an answer?


Freedom:

Well – I'm gonna have to break your arm before you say no, hehe.



Tashi:

I'm much the same.


Freedom:

I try to negotiate my way into anything. Have as many connections as you possibly can. It's never what you know – but who you know. If you want to know anything about anything – call me.



Tashi:

That's definitely the quality of a journalist – having contacts, being pushy and never taking no for an answer. Do you ever worry about what people think about you when you work all three?


Freedom:

Um – sometimes they might think I'm a bit too much maybe – or too motivated or ambitious –



Tashi:

Is it ambition that drives you?


Freedom:

Ja, ambition more than anything.



Tashi:

Ambition for what?


Freedom:

To live life to the fullest. There are so many things we can live for – just the fact that we're here makes a huge difference. What difference are you gonna make to the world since you are here? Are you gonna let it rot the way it is or are you gonna bring a positive element into the negative that there is.



Tashi:

So Mandla asks these same questions?


Freedom:

He's very objective. He doesn't try to sensationalise things – he goes out there and gets the truth.



Tashi:

What are the main differences between the two of you?


Freedom:

Mandla tends to become a bit too energetic at times - like I can't keep up with him. I want to say: "Hey, dude, take a chill - relaax." He's too energetic whereas I have days where I chill out – where I just want to relax and think. Mandla just acts on impulse.



Tashi:

What's the best thing about being in the 7de Laan cast?


Freedom:

The atmosphere and the people. It's definitely the best cast, best crew, best directors, best management team. I'm very, very happy and I'm learning so much – it's amazing.



Tashi:

Acting-wise?


Freedom:

It's the acting, the interaction with people. I mean Afrikaans is like my fifth or sixth language but I'm learning so much and I'm not just learning it, I'm performing in it as well. When I give out those lines, I can't just say them as lines – I need to give emotions to them so the understanding of the language itself is important. A lot of people would say: "Oh Afrikaans, it was an oppressors language in the Apartheid days - " and all that but I've found so many qualities in the language itself – it's amazing.



Tashi:

So it's changed your perception of the language?


Freedom:

I'd say it has. My grandfather used to talk Afrikaans but that was because it's what he learned at school and I did Afrikaans as a second language at school but now, having to perform in it – it's a challenge for me every day.

I don't have a single day where I come to work and I'm like: "Ahh chill." 'cos I know that I must be on top of my Afrikaans. I'm forcing myself to speak more Afrikaans than any other langauge - while I'm at work and with people - so I'm able to perform better in it. Hopefully one day I'll do a whole play in Afrikaans. See this Zulu boy do a whole play in Afrikaans.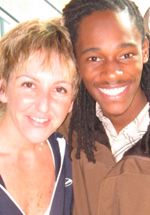 Tashi: What's the most difficult aspect of working on the show?


Freedom:

I don't see things as difficult – I see them as challenges. Like I said, I'm very motivated and inspired. If anything's difficult, I try to overcome it as quickly as possible. I'd say one thing that is very difficult is having to wake up so early in the morning. That's the most difficult thing!



Tashi:

What time do you wake up?


Freedom:

At 5am so I can be on set at 6:30am or so. I beat the traffic that way 'cos I live in the South. If I'm not in Traffic the trip takes me about 30 minutes.



Tashi:

What time do you go to bed?


Freedom:

It depends on how much work I have.



Tashi:

How long does it take you to learn your lines for the next day?


Freedom:

It depends on how I'm feeling for that night. I usually give myself at least two hours. If ever I have any questions I ask them on set and people will help me – I work with the coaches a lot so I can get the right stresses and ways of saying the words.



Tashi:

If you weren't an actor, what would you be?


Freedom:

An engineering designer. Actually I am, hehe. I'm a qualified engineering designer.



Tashi:

Really? Did you do this before going into acting?


Freedom:

Yes, I was acting and I did it as well.



Tashi:

Do you think you'd ever go into it professionally?


Freedom

: Part-time – I have my clients now and then. Like they want architectural drawings and so on.



Tashi:

Have you travelled? Do you want to?


Freedom:

I still want to travel. Overseas I've been to LA about two/three years ago. I'm beginning to travel 'round South Africa – it's very beautiful. I don't think I want to live anywhere else in the world except South Africa.



Tashi:

A lot people say travelling outside of SA makes you really appreciate what you have at home. What was LA like?
Freedom: Overwhelming. Too overwhelming. Big cars, big wheels, everything's big. The burgers – huge. The chips – huuuge. They Super Size everything.



Tashi:

They've super-sized before they've Super Sized.


Freedom:

Exactly. And I'm just this skinny little boy from Soweto in the middle of LA. It was great though – the people I went to see there were amazing. I did a show called Scout Safari for NBC and Discovery so that's why I had to go. I did publicity and radio – it was good, I had a great time. I took a road trip to Las Vegas, I went to Universal Studio's. I really took in everything – I learned how to surf.



Tashi:

So – would you ever want to be a journalist?
Freedom: No, I don't think so. I'm a people's person so it wouldn't be unthinkable and it would be a challenge – I would do it but I don't think it's my line of work. I'd rather stick to acting and cars.




Replies: 2

You must be a TVSA member to post a reply
| | | | |
| --- | --- | --- | --- |
| Reply from: | slera | | Monday, February 18, 2008 04:47 AM |
Freedomis sooo cute and he is too young for his owwn age.
| | | | |
| --- | --- | --- | --- |
| Reply from: | Nonny | | Monday, February 18, 2008 05:14 AM |
Freedom is very cute and I loved him on Strictly Come Dancing, but honestly though I only looked at his pic and I didn't read the interview!!!







14/04/2014




01/04/2014




25/04/2013




03/04/2013




18/03/2013



Total Views: 1139231
Total Replies: 1721