On Thursday night 45-year old James Bhemgee took the winning title in the second season finale of SA's Got Talent and hasn't stopped singing since.

Literally.



I caught up with him for us and he sang throughout our chat. One moment he'd be talking and the next he'd launch into song, with lots of extended vowels. I've tried to include the sound of his singing for you to hear, but I don't sing very well unfort. so please imagine his voice throughout: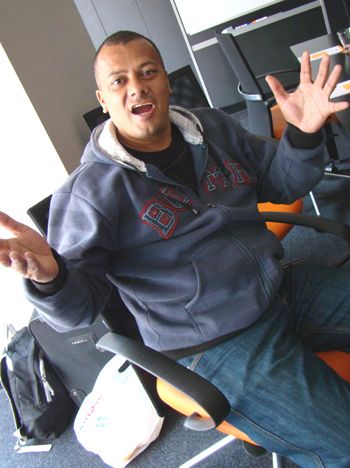 Tashi:

22-years ago you were discovered when you were a street sweeper, you went for singing lessons, you travelled, performed internationally - and all that ended 10 years ago?


James:

Yes, the travel that I did internationally was as a student. I had teachers who believed I was ready so they put me under contract but my visa expired, that's why I had to come back. When I got back I decided: "Now you must just sing." I've been singing all that time.



Tashi:

That's what you've been doing for the past 10 years?


James:

Yes, I've survived by singing here and there, community projects, people phone me up and say: "We're having this concert, can you sing for it?"

I think I'm the only singer of my class and standard who says: "Okay, I'll siiiiing." Other people will say: "No, no, if there's no money I won't." I've been singing in and around, I've also been to Namibia, I sang in an opera there, La bohème.

Over the years I haven't made the money that I'm supposed to make with this type of voice, but for me, the millions that I've made so far is the improvement of my voice. My voice is always improving and people say: "You're sounding beautiful now."



Tashi:

Did you enter the first season of SA's Got Talent?


James:

No, I didn't have a decent phone and for that season you had to have one with the internet or e-mail but this year you could just go and enter. I think they shot themselves in the leg or whatever this year because it was too full. Everyone just came!



Tashi:

Your original story, when you were first discovered - did it just happen? Were you singing along while sweeping a street and somebody heard you?


James:

Ja, at the time there was apartheid so me and my coloured community knew that the white people had the money, liked Opera kind of music and they will send you further.

The people in the area where I stayed, they'd say: "Jy moet 'n wit mens jou lat ontdek, hulle gaan jou skool toe stuur," (You must let a white person discover you, they'll send you to study.)

So everyday I'd sing while sweeping *

launches into an Opera

* "Sonder jou kan ek nie leeeeeeeeewe nie," Everywhere I'd do it, I'd sing a tune I knew and make up my own words.



Tashi:

So you just auditioned every day, everywhere?


James:

Ja, and a lot of people took my name and said: "Oh we'll do this and that," but then on a specific day this old lady came out. It was a lady who had the most complaints at my branch, complaining about the workers, saying: "The workers don't clean properly."

She knew the councillor so she used to phone and say: "Your people didn't sweep here" - until she discovered me, she never complained again.

She heard me singing, then she called her daughter, who was a very good pianist at Rondebosch High - she came and said: "Mommy, this is a very good voice."

The mother said: "Then we must do something," so they called a singing teacher friend of theirs, Vetta Wise, and she listened to me and said: "Okay, I can try to help him," so I had to go to Rondebosch High School every Saturday for a singing lesson.

After three months, she decided my voice was a difficult voice to handle, "I must give him to a bigger and wiser teacher." So I went to a teacher at Artscape, it was the Nico Malan then, he was an American baritone - he taught me for six months.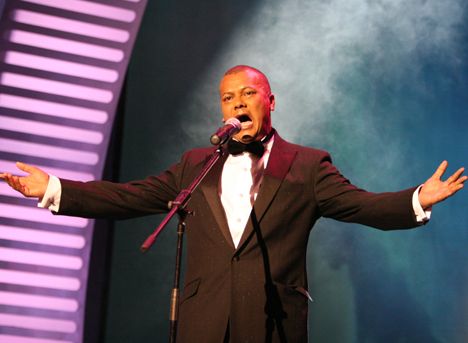 Tashi:

Why opera specifically? Why is it your passion?


James:

I don't know what it was but my voice was ... since I was seven, that was the style I sang in, stretching out notes. There was a guy in my class at school - he used to get all the girls because he was a good singer.



Tashi:

Oh

, so actually it's all about girls - ultimately? (Just realised - I reckon it's the same for every guy singer??)


James:

Ja, ja, ja, he used to sing ... *

starts singing quickly, with a pop

sound* but I used to sing ... *

sings long stretched-out notes

* I developed that style, up to now.



Tashi:

Talking about girls, do you have someone in your life?


James:

Yes I have a girlfriend and we have a baby of three months.



Tashi:

What does she have to say about your win?


James:

"Ooooh-oooh-ooooh," she cried - she cries whenever I sing.



Tashi:

Immediately after your win you said that you'd like to spend the money on buying a house?


James:

Ja, ja, ja. It'll probably be a start. There's no use buying a house and your children suffer so I'm going to use some of the money to see to my children - I have six - and do CD's and stuff and stuff and stuff and then the house will come.



Tashi:

CD's, talk more about that. You had a sort of break previously, now there's this second break - what are your plans for your future?


James:

I want to come out with my CD - I've been busy with a CD, I recorded with a guy called Aloe April, very famous, he played with Robbie Jansen. I'm busy recording at his place - we've only done about three songs already so we are busy.



Tashi:

When will that album come out?


James:

We wanted it to come out before the SA's Got Talent finale but we live far apart and I don't have transport. I had to depend on my brother-in-law who used to take me to him sometimes but the last few weeks, the petrol - the money wasn't there for it so we couldn't go through.



Tashi:

Just recently I saw a story about how the international reality shows, once they finish, they try to get everything out before Christmas, CD's, books etc so that people will buy them as gifts - it would be cool to get it out for then. Plans after that?


James:

My main aim is to sing all over the whole of South Africa, let everyone get this talent of mine, at theatres, in halls because the whole of South Africa has voted for me - even up to PE, Jo'burg even, I know Jo'burg people voted for me too.



Tashi:

Do you have an agent or manager?


James:

No not yet.



Tashi:

You can never know if it's a good thing to get one - or not.


James:

For 20-years I haven't had a manager or agent and things didn't work out money-wise. I didn't always have work so with an agent or manager I think things will go better. I need one with all the connections - you can't get someone who went to media school or agent school and passed it but doesn't have connections.


Fast fact: in my experience, too many managers do their clients a disservice - many of them don't pass along interview requests to the artists they're representing or they don't even have pictures or biographies of them available. You meet the actor or muso somewhere afterwards and they don't have a clue you wanted to do a story about them. I'd say three-quarters of the managers I've come across operate as shoddily.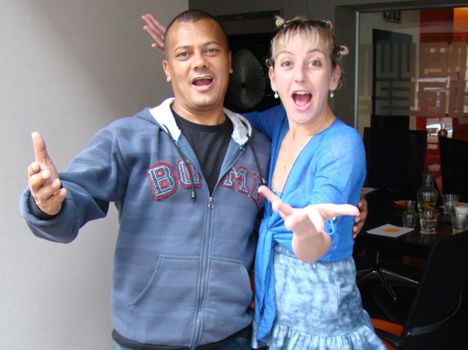 Tashi:

Who's your fave opera singer of all time?

Me?

Pavarotti?


James:

Franco Perulli.



Tashi:

I'm an arb when it comes to opera - I'm sure I've heard of him but I only know like Pavarotti and that's it. I don't understand what the difference would be between them?


James:

Perulli has a big voice, he blows you apart whereas Pavarotti has the type of voice that I have. With Pavarotti, beauteousness is most important, so you can sing until you're over 100 years old - that's the most important thing.



Tashi:

Whereas with the other guy, it's bigger and more "Rwaaaaaoooor" (roar)?


James:

Ja,



Tashi:

He's your favourite yet you have a different style voice?


James:

Ja, I sing with a little bit of his style - like projecting all the time. From all these singers I've learnt how to make the audience feel with you. I can be on fire like Perulli and then hold it There like Pavarotti.

I can tell the story, even if you don't know the words or what they mean, you can feel them.



Tashi:

You've been through this struggle to sing, what advice would you give young singers? There are so many singers and so many similar shows - your advice?


James:

My advice, especially to parents also, if your child can sing, they must be the best. Don't just evaluate them with others who can sing and say: "Oh he or she's good, she can win this thing," Go further. Get singing teachers who can guide them. Singing teachers will tell you: "My boy, you're not ready."

That's what my first singing teacher told me: "James, I had to study for 20 years before I went on stage." I felt: "Yerrrrr! I don't want to wait for 20 years." And I have.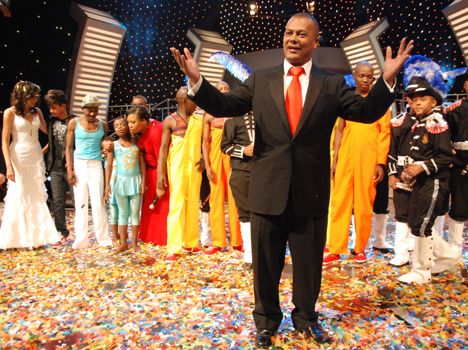 Ends