Ses'Top La: new sitcom on SABC 1
| | |
| --- | --- |
| Monday, May 28, 2012 | |
When TVSA got a set visit invite to "Ses'Top La", being the TV fanatic I am, like a 13-year-old girl in a swimsuit contest, I insanely jumped with excitement. I arrived just as the cast and a dozen of extras were having lunch and I quickly grabbed Nkuli Sibeko (better known as Dana Roberts in City Ses'la) who's the director of the show and she described the show in broad strokes. I promise you a spoiler free review.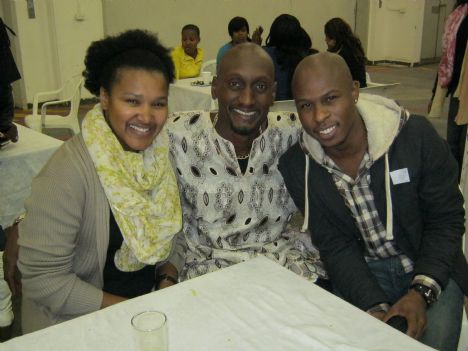 Kuli, Leroy and Tazteeq

According to Kuli, "Ses'Top La" is a 13-episode locally produced sitcom, a spin-off to the much loved City Ses'La. The story follows the ghettolicious Phumzile (played by Busi Lurayi) and the Thembanator (played by Mandla N) as they move out of the loft they shared with their friends in Joburg.

Themba gets a "good" job and the pair decide to move to a posh place in Sandton. A week goes by and Temba loses his job and that's where the wheels come off and the drama unfolds.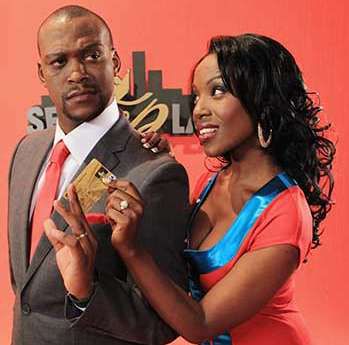 The movers!

Themba's demeanor from City Ses'La remains unchanged. He is now grown and married to Phumzile and wants to steer away from the "loft-sharing" life to a high-class independent living up-north. Promising us a fun-filled show packed with nothing but laughter, he says there will also be a return of his sister (played by himself), who actually gets married in the show.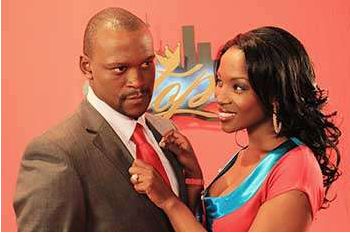 The lovers

Phumzile has always been a lover of Gold-cards and "nice things", and once Themba gets the job she is quick to tell Themba to move out of Joburg to Bryanston or Sandton - Sandton ultimately wins the race. She is the type that sticks to her man through good and bad, and when Themba loses his job she tells him that they will make ends meet and refuses for them to move back to town creating more and more drama.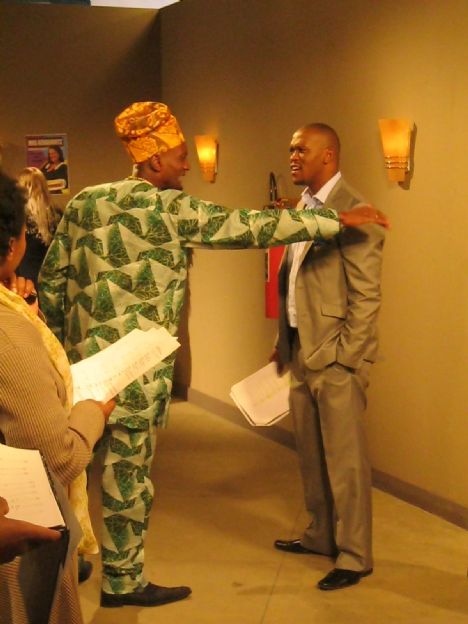 Got a chance to sit in and watch the scene rehearsal

The City Ses'la cast is also thrown into the mix, but they drop in once in a while in some episodes. I got to chill with the new faces of the show for a 5-minute chat about their characters to find out what they are bringing into the show. First it was Judy Ditchfield (better known as Stella Fouche in Isidingo) - she's the owner of the coffee shop downstairs to the building where Themba and Phumzile live.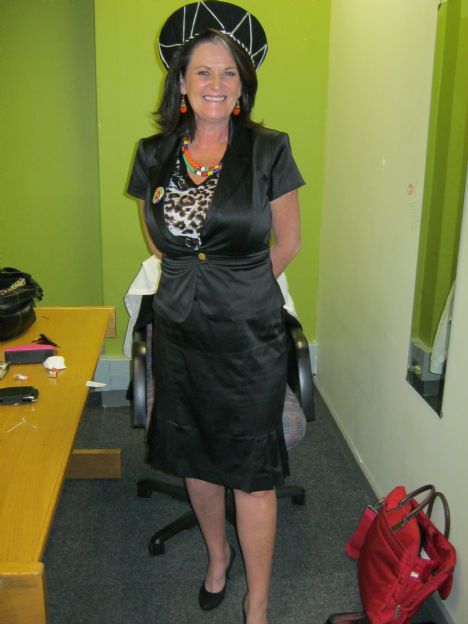 The very lively Judy

Leroy Gopal plays another resident Oleshe, a businessman from Nigeria. Oleshe will bring all that shadyness 'some' Nigerians have. In some episodes Busi Lurayi flips to play Oleshe's Nigerian wife and she does it sooo well. I had an opportunity to see the recording of Busi playing this Niger woman and I must tell you, when the director said cut we were all in stitches!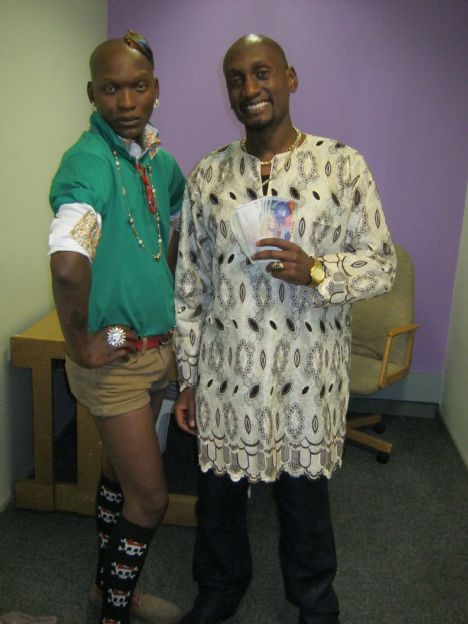 Leroy on the right, and everybody meet Thoko Chanel (left)

Then there's Thoko Chanel, this is a flamboyant gay role played by Warren Masemola. Thoko Chanel is a flaming gay queen from Alexander who just wants to push the fabulous life in Sandton. He loves all 'cures, from Pedicures to Manicures, shopping is his ultimate indulgence mechanism and he looves Oleshe because of his money while Oleshe HATES it! He is trying sooo hard to get a man and he ends up competing with Buseje (Not sure if this is how it's spelled), who is a maid in Themba and Phumi's high-class Sandton apartment.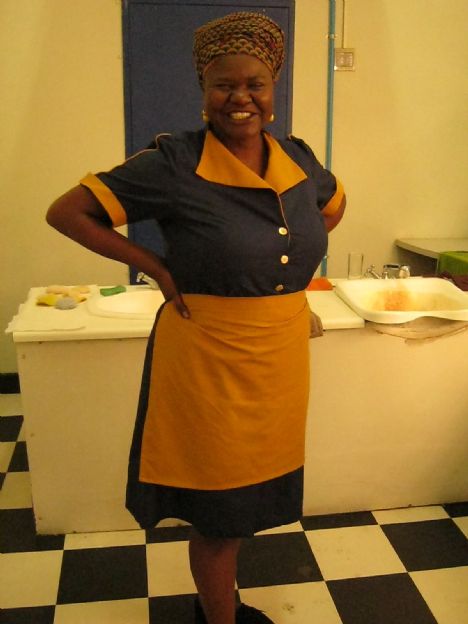 Lindiwe Ndlovu was very happy to pose for us in her maid uniform

Lindiwe Ndlovu comes into the blend as the Malawian maid Buseje and isn't well favoured by Gideon, a security guard in the building, played by Trevor Gumbi. Buseje was a maid to the previous owners of the apartment and she now takes over as the new maid to the new pair. Gideon knows Phumzile all the way back from Vosloorus and that "I know what you did last summer" drama unfolds between the two and knowing Gumbi, one is certainly guaranteed smashing laughter!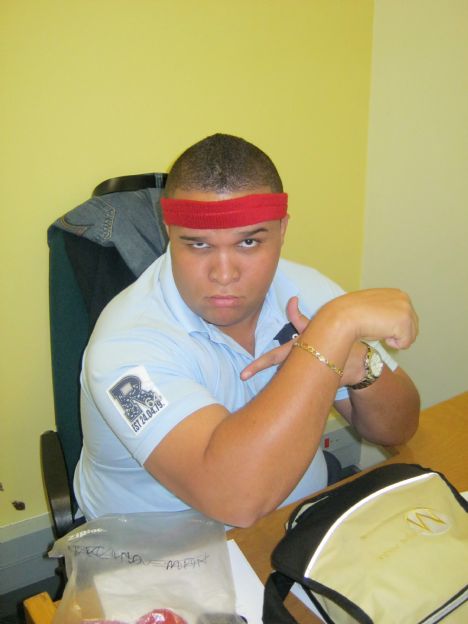 Meet Gatiep! I feel guilty pronounsing his name, sounds like an insult!

There's a gym inside the building the pair moves in and Jason who plays a gym Instructor/trainer called Gatiep, from the roudy Cape Town. Gatiep grew up in Joburg and he seems to think he is the hottest thing since boiling water in the gym circles. He looks chubby, but that doesn't stop him from believing that he can still give people the hottest bikini/beach bodies.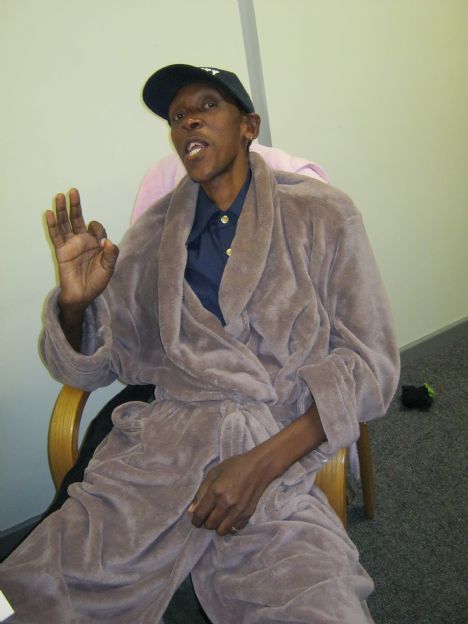 ...and Fishbone

And then there is character called Fishbone played by Dambisa. I am sure you will find this man very familiar, and I must say I felt like midget standing next to him. His character doesn't utter a single word in the series and he happens to know everything about everybody in the building.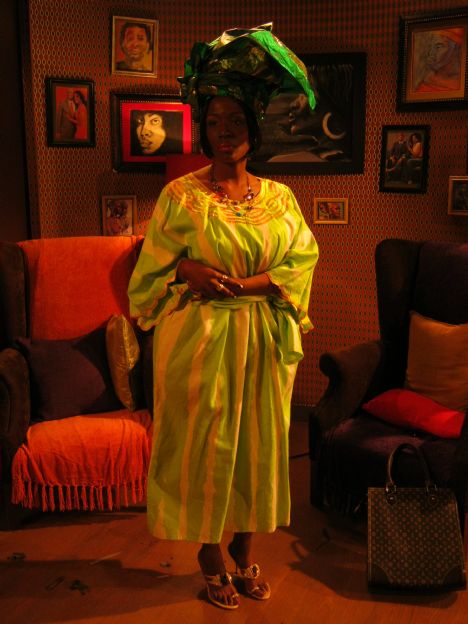 Busi in her Niger woman attire

Ses'Top La premieres on Friday the 1st of June at 7pm and ends August the 24th, on Mzansi For Sure (SABC 1).



Replies: 12

You must be a TVSA member to post a reply
| | | | |
| --- | --- | --- | --- |
| Reply from: | Spherism | | Monday, May 28, 2012 13:42 PM |
I certainly cannot wait, Nkuli Sibeko and Busisiwe Lurayi do make me laugh besides I like local product!!!!!
| | | | |
| --- | --- | --- | --- |
| Reply from: | makisto | | Monday, May 28, 2012 13:46 PM |
Kwaaaaaaaaaaaa lol. That guy Theko Chanel is such a great actor. I was under the impression that he is Pedi, Lemme read in full
| | | | |
| --- | --- | --- | --- |
| Reply from: | Tazteeq | | Monday, May 28, 2012 13:46 PM |
Sphe, do believe me, you wqont regret watching this...from what i saw, looks like its gonna be funtainment!
| | | | |
| --- | --- | --- | --- |
| Reply from: | ntoko | | Monday, May 28, 2012 14:34 PM |
kwaaaaaaaaa Taz my frendship usezintweni hw r u its been a while????
| | | | |
| --- | --- | --- | --- |
| Reply from: | monchooza | | Monday, May 28, 2012 15:49 PM |
cant wait for this one...i Local ing'shaya ngaphakathi!!!
| | | | |
| --- | --- | --- | --- |
| Reply from: | swazzy | | Monday, May 28, 2012 21:05 PM |
Sabc 1 finally got their senses back .. Chisa now Ses top la .. I like !!
| | | | |
| --- | --- | --- | --- |
| Reply from: | swazzy | | Monday, May 28, 2012 21:08 PM |
Sabc 1 finally got their senses back .. Chisa now Ses top la .. I like !!
| | | | |
| --- | --- | --- | --- |
| Reply from: | Spherism | | Tuesday, May 29, 2012 09:39 AM |
@Taztee: I have started with the countdown-!!!
| | | | |
| --- | --- | --- | --- |
| Reply from: | Cheesa | | Tuesday, May 29, 2012 10:21 AM |
I cant wait! This sounds all so interesting plus I love Busi Luraye as Phumzile with Thembanator.

A very well written article Tazz! Keep it up!!
| | | | |
| --- | --- | --- | --- |
| Reply from: | Snuca Babe | | Tuesday, May 29, 2012 10:45 AM |
sounds interesting! cant wait
| | | | |
| --- | --- | --- | --- |
| Reply from: | @NomhleN | | Wednesday, May 30, 2012 09:27 AM |
I sure won't be missing this.... am always game for a good laugh and I have a feeling this will bring just that..... *set reminder*
| | | | |
| --- | --- | --- | --- |
| Reply from: | myname | | Thursday, June 21, 2012 12:12 PM |
The best SA comedy!!!!!!Oh I love the cast!!!! Maar it clashes with my news eish nxa