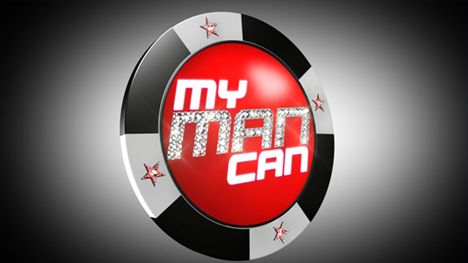 A new reality gameshow titled My Man Kan (My Man Can) launches on kykNET in early October. The series is based on a popular Dutch format of the same name and is on a search for couples to be part of it.

Each episode sees four women gambling with their partners' abilities. The women put their men's courage and skills to the test in a quest to have their man perform best.

As the men face various challenges, the show questions: how far will the men be able to go? Which of the women knows her better half best? Which of them will set the stakes too high and drive her partner to distraction?



How it works



Each of the women sits at a poker table and bets her rivals that her man can accomplish certain tasks and go further than the others. He waits in a soundproof cubicle, waiting to hear the task his woman has accepted on his behalf. Each couple has no contact with each other.

The tasks are varied and include challenges such as:

How many red roses can your man eat in 45 seconds?
How many people can he beat in an arm wrestle?
How many chillies can he eat in one go?
Whose man can make a bed the fastest?

Each of the women is given 100 gambling chips which she uses to bet in each round of the game. If she has claimed "My Man Can" eat 10 chili peppers, he has to do so. If he performs the challenge successfully, she wins the jackpot.

In each case only one of the men attempts the task, rather than several competing against each other.

If the woman has overestimated her partner's abilities, the chips in the pot are distributed among the other women at the table. The two couples who end up in the final are faced with a choice: do they try to perform the task, or let the others take their chance?

Somebody has to win the prize so one of the couples makes the attempt and if they fail, the losers win the episode.



How to enter



If you'd like to enter with your partner, you can send your contact details, address and a photograph of the pair of you together to: info@richtermedien.com.

Couples can be married or dating.



The series will be in Afrikaans so you need to be able to converse in Afrikaans.



Filming takes place between 11 and 20 May at Emperor's Palace so you'd need to be available to film between these dates.



Closing date for entries:

Monday, 16 April 2012.



Studio audience



The series is also looking for a studio audience so if you'd prefer to be part of the audience you can book a spot by calling: 011 928 1297/1213 or e-mailing: psihlangu@emperorspalace.com.