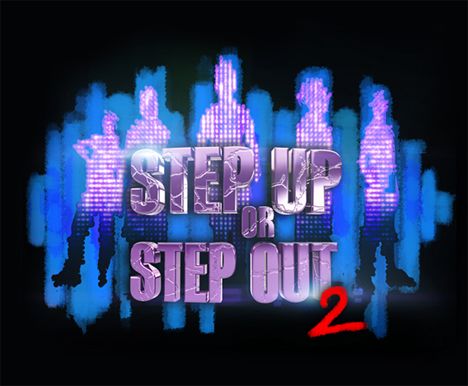 e.tv's dance search Step Up or Step Out returns to the channel in April for Season 2 and the search for dance crews starts soon. The season premieres on Sunday, 29 April at 18h05 and will once more be accompanied by the companion show Flipside, which will be on Saturdays at 13h30.

As you probably know, the series pits dance crews against each other in search of the ultimate crew. Season 1 aired between May and July last year and was won by Jozi dance crew the Stunners.

If you think you have what it takes to follow in their footsteps, here's everything you need to know about how to audition ...



Audition dates and venues

:




Johannesburg





Dates:

Friday, 2 March - Sunday, 4 March


Venue:

Beatrocker's Academy (Rivonia Boulevard and 9th Avenue, Rivonia)



Bloemfontein





Dates:

Saturday, 10 March and Sunday, 11 March


Venue:

Bloemfontein Showgrounds (Cnr Maitland and East Burger Street)



Durban





Date:

Friday, 16 March - Sunday, 18 March


Venue:

Natural Science Museum (1st floor City Hall Anton Lembede Street)



Cape Town





Date:

Friday, 23 March - Sunday, 25 March


Venue:

Dance for All (10 Aden Avenue, Athlone)



Port Elizabeth





Date:

Friday, 30 March and Saturday, 31 March


Venue:

Italian Sports Club (17 Harold, Carlo)



Frequently asked questions

:




1. How do you define a street dance group?


The group must consist of 3 to a maximum of 5 dancers and will perform any street dance routine of their choice. The style of dance will be defined by the dance crews as they showcase Mzansi's street dance moves.



2. Is there an age restriction?


Crew members are eligible to enter if they are 18 years old or older.



3. Is entry open to crews from all countries?


No, applications will only be accepted if all the members are South African citizens or have South African residency.



4. Will I be excluded if I don't reside in Joburg, Cape Town, Durban, Bloemfontein or Port Elizabeth?


You may enter if you reside or have residency in South Africa as long as you are able to get to the advertised audition venues in any of the 5 cities listed above.



5. How will we find out more about the competition?


Watch e.tv for more information. Go to the Step Up Or Step Out webpage on www.etv.co.za for the application form and list of music tracks for the auditions.

Also, visit Facebook and Twitter: www.facebook.com/stepuporstepout and www.twitter.com/etvsa using the hashtag, #SUOSO.



6. How do we enter the competition?


There are two ways to enter the show. An application form is available in the Step Up Or Step Out section on e.tv's site.

You can complete it online, email it to entries@endemol.co.za or submit it on the day of the auditions. Participants who have sent in their forms prior to the audition will receive priority in the queue.



7. Does each member of the crew have to send in an application?


Each group must select one member who will apply on behalf of the entire crew. This elected applicant must provide his/her contact details on the application form, but should also list the names, surnames and ID numbers of all the members within the group. This is to ensure the uncomplicated receipt of applications for each group.



8. May we bring our own music to audition?


Only music tracks on www.etv.co.za may be used to audition as all the music rights have been cleared for broadcast. The music list will be updated continuously on the website.

Groups are not permitted to make their own mixes of one or more songs from the listed tracks, i.e. only the clean tracks (as they are on the website) may be used for auditions. Your routine should be no longer than 90 seconds in duration and you may use any part of the track for this routine.