Jeannie D is a radio DJ, actress and television presenter best known for her vocal talents on Good Hope FM radio and for her work as a presenter on Top Billing.
She was also a co-presenter of the travel series Top Travel, a sister show to Top Billing, both of which are made by Tswelopele Productions.
Born and bred in Johannesburg, Jeannie attended the Colin Mann Primary school in Germiston.
Jeannie knew from a young age that performing was her forte; as soon she turned 12, she auditioned at The National School of the Arts (drama) and honed in on her acting and vocal skills.
She accomplished and successfully managed to secure a number of lead roles in several theatre productions and a variety of commercials i.e. inflight videos and poster girl for SAA).
At 18 she enrolled at RAU (Rand Afrikaans University) where she studied BA Communications. She joined the campus radio station Rau Radio, and won the Miss Rau competition in 2002.
Having tired of the highveld, Jeannie packed her bags and relocated to Cape Town. With acting and radio experience under her belt, she happened to be in the right place at the right time when Good Hope FM were looking for new talent.
Jeannie started off on the graveyard shift on a weekend slot as well as a day time news reader – and within two months was given one of the top shows in radio, The Jeannie D Show.
Her energetic show aired every Monday to Friday for four hours, from 18h00 to 22h00. She resigned in September 2006 to pursue her television career fulltime.
Jeannie joined the Top Billing team full time and was signed as one of four presenters.
In 2006 she interviewed Laurence Fishburne, Ving Rhames, Kevin Spacey, Keanu Reeves, Sandra Bullock, David Gray, Kate Bosworth and Jonathan Rhys-Davies and the famous shoemaker, Jimmy Choo, amongst others.
Jeannie was one of eight celebrites to dance in
Strictly Come Dancing II
. Her and her partner
Anthony Krotz
were the fifth couple to be voted out of the competition.
She was a co-host of the 6th Annual SAFTA Awards, in 2012.
She was the subject of an episode of the Nicky Greenwall-hosted documentary series The Close Up, which aired on e.tv and the eNews Channel in 2012.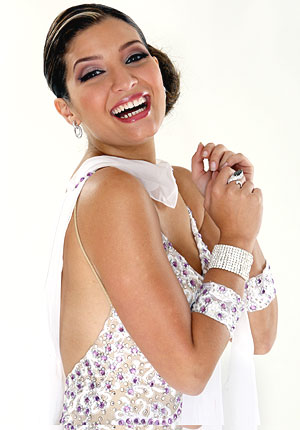 Jeannie D in Strictly Come Dancing 2