Last week I caught up with
KB
at the announcement of
Channel O's 2009 Award nominees
and had an excellent chuckle.
When Big Brother's on there are always so many housemates to smack and KB's always so busy I never get a chance to chat to him properly.
As soon as I spotted him I scooched over to find out what he's up to - obviously trying to trick him into spilling whether he'll be back for
Big Brother 4: Da Revolusssssion
(said with a French-type accent, spelling impossible.)
My best thing about him hosting the show is that he always had so much to say about the housemates - even when he didn't say it.
My highlight of the endlessly yawny eviction shows (bring on the Revolution
pleeease!
) was always the moment the housemate arrived and KB clapped eyes on them - ....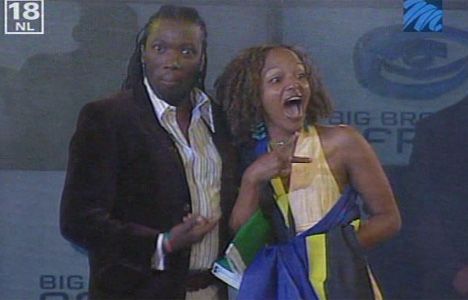 - the look he gave afterwards was hysterical - like you just knew exactly what he was thinking and he knew we-knew too type thing.
The latest on it all is that he hasn't heard whether or not he'll be hosting yet. From what he had to say he's anticipating that they may go with someone else - 'cos of the whole "it's all so revolutionary even though there's been a million seasons"- angle.
My thinking is that if he hosted it would still be a revolution with everything else that's planned - I don't want to have to get used to someone else. We know him so well now and also, he was fab - if you think about how he was never the focus of things - yet so present and aware of exactly what was going on in the house.
Also, he's himself always - I've never seen or heard him on radio being anything other than cool and funny in whatever he's talking about.
My vote goes to him mos def!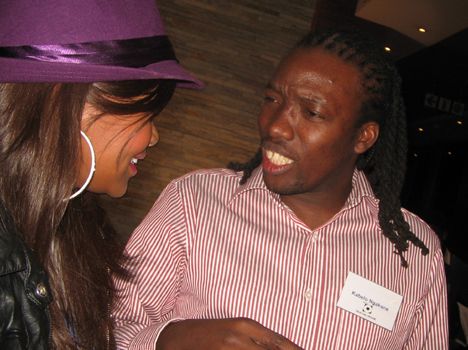 A bathong! moment with Nonhle Thema
In the meantime he's off to Jamaica this week to film a new show that's a follow-up to the series One Drop. He'll be hanging out with local muso's to find out what's happening in da jah-scene. Apparently everyone smokes dweeb wherever you go there so I asked: "Will you be too?"
His reply:"I would - if I smoked!"
(PS, sidenote: I used to have Rastafarian as my religion on Facebook, until I realised that people might not take me seriously. I have noo idea what that means nor whether I'm actually Rastafarian but hopefully you'll know what I mean even if I don't!)