New to BBC Entertainment this May, 2010:



Being Human 2




Premiered:

Tuesday, 4 May 2010 at 20h30


Continues every Tuesday at 20h30





Having discovered the existence of supernatural creatures, two strangers begin to pursue the housemates with the objective of eliminating them by any means necessary.

For more about the season, see: TVSA's Being Human 2 Show Page

.




---



Ashes To Ashes 2




Premiere date:

Monday, 17 May 2010 at 21h30


Continues every Monday at 21h30





Season 2 begins in 1982: bullish DCI Gene Hunt is back, policing the streets in his politically incorrect and loud-mouthed style. Sassy Alex Drake, whom Hunt shares a fiery working relationship with, is by his side, desperately trying to keep him in line.

Though no nearer to getting back to her daughter, Alex believes she is suspended in time and finally understands how the world around her works. But, when she starts hearing news from 2008, she realises that nothing is as it seems.

For more about the season, see: TVSA's Ashes To Ashes 2 Show Page.


---



Undercover Princes




Premieres:

Tuesday, 18 May 2010 at 21h30


Continues every Tuesday at 21h30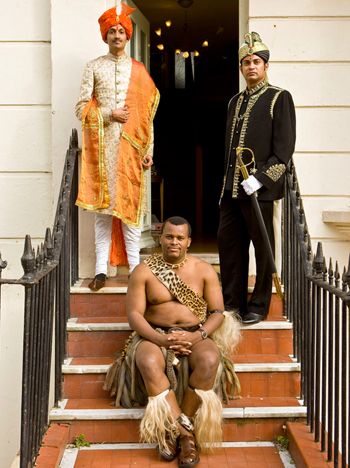 Three real-life bachelor princes from across the globe go to the UK in search of true love. However, to ensure that the people they meet will love them for themselves and not just their wealth and status, they go undercover, living and working as ordinary people for the first time in their lives.

The three princes must share a terraced house in Brighton without their trusty servants, and must try to cope on their own. They also hit the singles scene as they trawl the bars and clubs, join internet dating sites and even try their hand at speed dating in their bid to find a partner amongst 'commoners'.



The princes are:





Cool factor:

His Royal Highness Prince Africa Zulu from Zululand, South Africa. At 30, he should now have taken a wife, but having been burnt by love before it will take him a while to find his Mrs Right.

Crown Prince Manvendra is from one of India's richest royal families and, in 2006, he shocked the world by becoming the first Indian royal to come out as gay.

His Royal Highness Prince Remigius of Jaffna, Sri Lanka is looking for a queen to continue the royal line. But for a man raised in accordance to a strict protocol, only an aristocrat will do.

At the end of their time in the UK, the princes need to surprise their chosen ones by revealing their true identity. What will happen when they try to whisk them back to their kingdoms?


The nightly comedy festival continues daily at 21h30 until Friday, 14 May. This is the line-up of acts coming up:



Wednesday, 12 May 2010




Live At the Apollo:

Lenny Henry, Andy Parsons and Ed Byrne





Thursday, 13 May 2010




Michael McIntyre's Comedy Roadshow





Friday, 14 May 2010




Live At the Apollo: Russell Howard & Jo Brand




---

BBC Entertainment is on DStv Channel 120.