DStv, Channel 120
New on BBC Entertainment in September 2009
| | |
| --- | --- |
| Thursday, September 03, 2009 | |
Starting on BBC Entertainment in September, 2009:



Dead Set




Premiered:

Thursday, 3 September 2009 at 20h30
Number of episodes: 5



Britain has a big problem. The dead are returning to life and attacking the living. The people they kill get up and kill others – and it's spreading like wildfire.

TVSA's Dead Set Mini Site


---



Strictly Come Dancing 5




Premiere date:

Sunday 13 September 2009 at 20h30


Results Show premiere

: Monday 14 September 2009 at 20h30
Series continues every Sunday and Monday at 20h30



The fifth season of the UK series. Dancing celebrities include TV presenter Kate Garraway, ex-EastEnders stars Letitia Dean and Matt Di Angelo, former Scottish international rugby player Kenny Logan, singer Alesha Dixon, and ex-England footballer John Barnes.


---



Being Human




Premiere date:

Monday 14 September 2009 at 21h30
Continues every Monday at 21h30
Number of episodes: 6

Being Human follows the lives of three twenty-somethings and their secret double-lives as a werewolf, a vampire and a ghost.

George battles with his double identity as a mild-mannered and geeky hospital porter who for one night a month is transformed into a flesh-hungry, predatory werewolf.

Mitchell, in contrast to George, has the gift of the gab and an easy confidence with the ladies. But he is also a blood-sucking vampire, struggling with going cold-turkey from the blood he craves.

Completing the flat-share is Annie, a talkative ghost lacking in self-confidence and desperate for company. Annie is still pining after her fiancé, whom she was due to marry before the fatal accident that left her with her ghostly affliction.

The series follows the trio as they do their best to live their lives as normally as possible despite their strange and dark secrets. But with unwelcome intruders into their world, rumblings about an impending revolution from the vampire underworld and constant threats of exposure - on top of the usual issues faced by young people surrounding love, work and mates - the only thing George, Mitchell and Annie may be able to rely on in their precarious world is each other.


---



TVSA Recommends!





Survivors




Premiere date:

Tuesday 15 September 2009 at 20h30
Continues every Tuesday at 20h30
Number of episodes: 6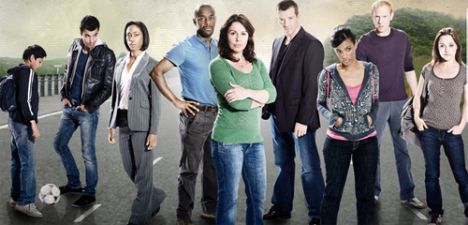 Set in the present day, Survivors creates a vision of the world in the aftermath of a devastating virus which wipes out most of the world's population and asks: what would we do? How would any of us cope in a strange new world where all traditional 21st century comforts - electricity, clean running water, advanced technology - have disappeared?

Written by Adrian Hodges and based on the novel by Terry Nation, the show is an action adventure series that re-imagines the '70s BBC drama series of the same name.

A second season has been confirmed.


---



Rob Brydon's Annually Retentive 2




Premiere date:

Thursday 24 September 2009 at 21h00
Series continues every Thursday at 21h00
Number of episodes: 6



Season 2 of the comedy series featuring Rob Brydon as the reluctant host
of a history-based panel show, Annually Retentive.

TVSA's Rob Brydon's Annually Retentive Mini Site.


---



My Family

8




Premiere date:

Thursday 24 September 2009 at 20h30
Series continues every Thursday at 20h30
Number of episodes: 7

The dysfunctional Harpers return for an eighth season. Love is in the air: Ben is in love with an extremely large television, Janey has fallen for a new man, and Michael's current squeeze has announced that she's pregnant.

Meanwhile, Ben and Susan's credit card statement highlights their individual secret vices and an armed robbery at the bank brings a new wrinkle to their relationship, when they are held hostage together.


---



Unforgiven




Premiere date:

Wednesday 16 September 2009 at 20h30
Series continues every Wednesday at 20h30
Number of episodes: 3

A character-driven thriller about sacrifice, revenge and the power of fate.

Released after 15 years behind bars for the murder of two policemen as a teenager, Ruth is drawn irresistibly to the place that haunts her, to those who hate her, and to the one person she left behind.

Having spent half her life in jail, Ruth faces the challenge of rebuilding all that she has lost. But maintaining a job, friendships and a relationship becomes harder and harder as details of her past begin to emerge.

As she tries to focus on her present, she cannot forget her past, and the sister she was forced to leave behind - a sister who has no conscious memory of her. Ruth's future is further threatened by a chance encounter with someone she doesn't know - but who knows her.


---



Antiques Roadshow 31




Premiere date:

Monday 21 September 2009 at 15h00
Series continues every weekday at 15h00
Number of episodes: 26

A new season of Antiques Roadshow.


---



Who Wants To Be A Millionaire? Season 1




Premiere date:

Tuesday 22 September 2009 at 19h30
Series continues every Tuesday and Wednesday at 19h30

Chris Tarrant hosts the iconic quiz show as members of the public are invited into the hot seat to answer up to 15 questions and possibly walk away with a life-changing sum of money.


---



Apparitions




Premiere date:

Tuesday 22 September 2009 at 21h30
Series continues every Tuesday at 21h30
Number of episodes: 6

Martin Shaw heads the cast of this drama series about an exorcist battling demons in what he discovers to be the beginning of the End of Days.

He plays Father Jacob, a priest who works for the Congregation for the Causes of Saints investigating miraculous happenings and promoting candidates to sainthood. Father Jacob becomes drawn into a terrifying spiritual conflict when a ten-year-old girl approaches him convinced that her father is possessed by a demon.

Although he is initially sceptical, Jacob is forced to take extraordinary steps to ensure her safety, by staging a dramatic exorcism despite the misgivings of his church colleagues

What follows is a journey into a world of possession and satanic conspiracy as Jacob's friends are all put in danger by his initial exorcism, but even with the Catholic church in opposition to Jacob's exorcisms, Jacob knows he must continue down this path to stop the demon and prevent an all-out war between good and evil, even if the consequences threaten his own life.


---



The Green Green Grass 2




Premiere date:

Thursday 24 September 2009 at 20h00
Series continues every Thursday at 20h00
Number of episodes: 7

The exploits of townies-turned-country-bumpkins Boycie and Marlene continue for a second season and it's looking like their idyllic lifestyle's about to come to an abrupt halt.

Boycie and Marlene have upped sticks and moved to Shropshire to mingle with the country set and run a farm. All is going well; Boycie is a dedicated reader of Farmers' Weekly magazine, Marlene is happily ensconced in the kitchen baking, and the infamous villains - the Driscoll brothers - couldn't be further from their minds.

Then Boycie learns that artificial fertiliser could be the key to doubling his crop yield and his profit, so naturally he jumps at the chance to invest in several bumper sacks, despite supposedly running an organic farm. Things get complicated when his neighbour catches him in the act.

Elsewhere in the second series, still yearning for the high life of the landed gentry, Boycie decides to stand for Mayor, Marlene experiments with vegetarianism and attracts the lascivious attention of Tyler's fellow pupils, and Tyler is determined to sow his own oats by tempting new girlfriend Beth to join him for a roll in the hay.


---

BBC Entertainment is on DSTV Channel 120



Replies: 0

You must be a TVSA member to post a reply




09/07/2012




04/06/2012




04/05/2012




24/04/2012




11/03/2012



Total Views: 160614
Total Replies: 20