Allow Us To Voice Our Opinions with no Fear. Hit me up on cheesagal@gmail.com ;-)
The Bacardi 1920s Prohibition Party
| | |
| --- | --- |
| Tuesday, April 17, 2012 | |
So this past Saturday I honoured an invite to the Bacardi 1920s Prohibition Party that took place at Casa Blanca in the Waterfront. Bacardi is celebrating its 150 years of togetherness and they decided to hold parties in two cities, Johannesburg and Cape Town.

The Johannesburg party was on Friday the 13th at Taboo, while the Cape Town party was on Saturday the 14th.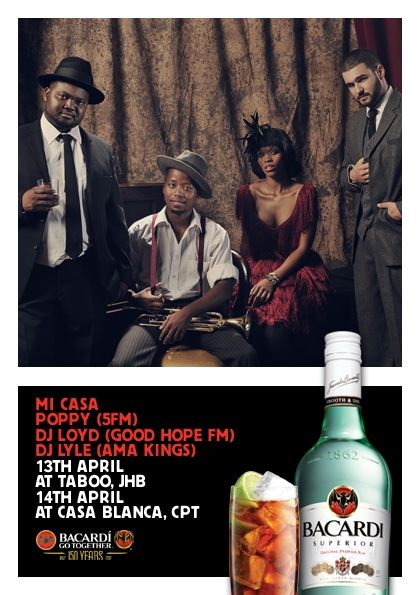 This was a themed party - the invitation said we must dress to impress in the 1920s style. Well I and my friend tried to dress according to the theme. What helped me is my old dress that I've wore once for a certain event. So the party gave me an opportunity to rock my dress again.

Some people were dressed according to the theme but most didn't. What I noticed is that guys were the ones who obeyed the instruction while most girls didn't. Heeeh at some point I felt so over-dressed coz my dress was long and I was carrying a clutch!

Most girls were dressed like they normally dress to clubs. Hayi shem sometimes you just don't know yazi what to do with these themed parties, whether to go according to the theme or not.



The people who were set to entertain us were Poppy of 5 FM, DJ Loyd (Hectic99 presenter and Good Hope FM DJ), DJ Lyle of AmaKings and 5 times SAMA nominated Mi Casa. I couldn't wait for Mi Casa's performance!

When we arrived at Casablanca I thought Bacardi was gonna be flowing but none! I thought we were going to be welcomed with some drinks but nope! Yeah I don't drink but I just thought nje since it's Bacardi's party they were going to spoil people with it but nope instead it was "buy your own".

That was quite disappointing shem because I thought that could have been some kind of promotion for Bacardi as I hardly hear people talk about it.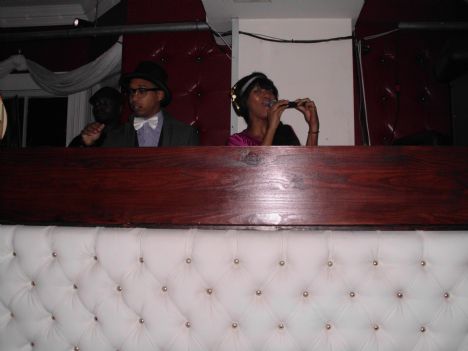 Anyway Poppy arrived and I asked to take a picture of her - she told me she doesn't take pictures alone so I had to pose with her *sighs*. She's a nice girl though. She went to the DJ's booth to do her thing.

She played after DJ Lyle. She brought her white girl swagg (as Lerato of BBA says) on the decks. Shem I didn't enjoy her set at all! The kind of music she was playing is not my kind.

She was playing that 5 FM type of music and mna shem the only show I enjoy on 5 FM is Euphonik's so you can imagine. I was so bored it was not even funny. I even concluded that maybe I'm "too ghetto" for such music!

I just wanted Mi Casa to come do their thing. I must say some people enjoyed Poppy's set they were even cheering her on chanting "go Poppy, go Poppy" while I was literally rolling my eyes.

Midnight Mi Casa came in to set up the stage outside for their performance. We quickly made away outside to get a good spot. As they were busy setting up the stage we went behind the stage to take some snaps with J Something.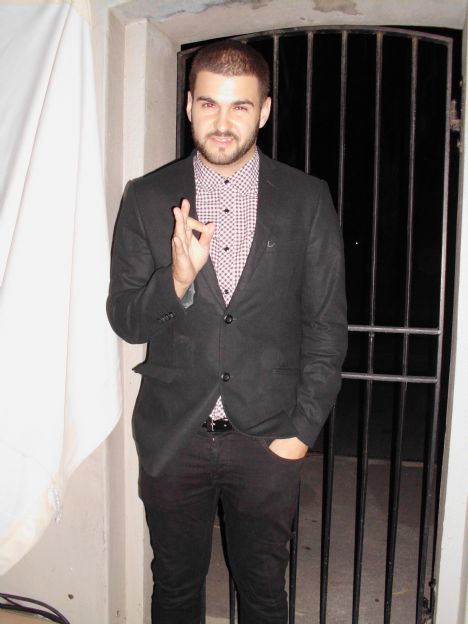 Oh Lawd the hottness and awesomeness that is that guy!!! I just melt! He's such a nice guy bathong he was happy to take pictures with us and he didn't get annoyed at any point or fake smiles.

He was just too nice and I immediately developed a crush on him eish yazi nje! *hides*. At some point I almost tripped as I was taking a picture of him with my friend (you know groupies mos?) and he tried to catch me asking if I'm okay *blushes* and I just said "yeah I'm fine" hihihihi J Something holla at your gurl ;-).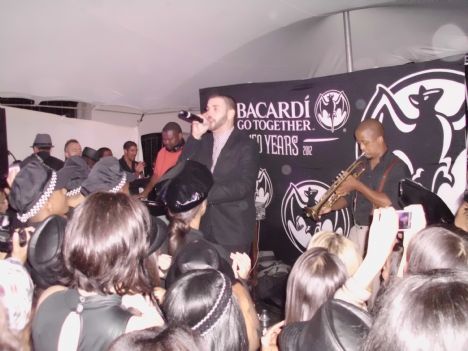 After that it was time for Mi Casa to bring the house down. Daymn did they bring it down! I enjoyed their performance it was too nice. Daymn! J Something can sing y'all! His voice gives me goose bumps!

He's just great shem no bhimbing whatsover! I liked it when in between their songs he would sing other artists' songs like Usher's song with DJ Guetta "Without You" and Adele's "Rolling in the Deep". I was like OMW this guy though!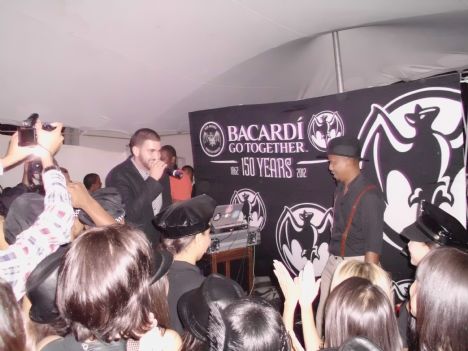 J Something can interact very well with the crowd he gooi some Xhosa here and there. They were just too awesome! Dj Duda and the other guy were great too.

Okay I must ask this ... isn't DJ Duda Euphonik's brother somehow? Yoh the way they look-alike you'd swear it was Euphonik on that stage. Aren't they related somehow? Plus they're both from Mpumalanga who knows.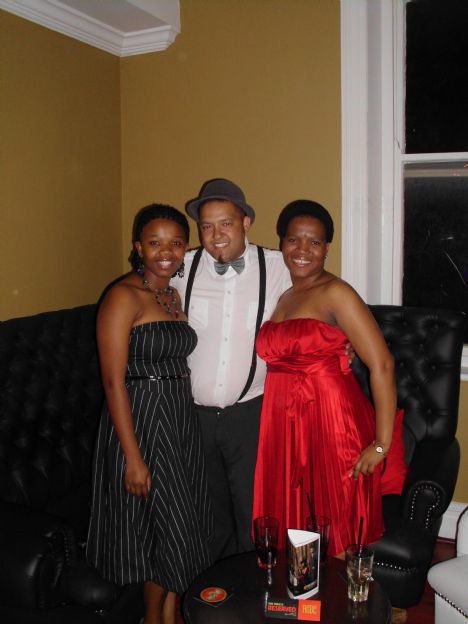 Moi with TVSA silent blogger Zanele in red

After their performance it was time for DJ Loyd to do his thing. I spotted him during the Mi Casa performance standing not far from moi but I just couldn't bring moiself to ask a picture of him, the less said the better. I tried to snap him while he was playing but hayi the picture just didn't come out right *shrugs*.

Anyway, he also got folk dancing playing similar music to that Poppy played. I tried to enjoy jiving but sana I just couldn't stand the music. I was very bored thle bathong I'm not gonna lie.

Some folk were enjoying the music getting down and all but not me. But shem at least we stayed until he finished his set and we left after.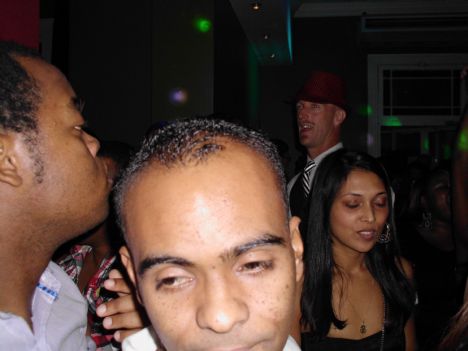 We also spotted the Booths! Sonia and Mathew Booth were at the party. They were enjoying the party sheim but I chickened out until the end to ask them for a picture. I mean I've read about the attitude of loya sisi so I just couldn't bring myself sheim. But I managed to snap Matthew jiving to Dj Loyd's set.

It was a cool party. It could have been better. Bacardi must go all out next time phela it's been many years they've been around cummon!

Anyway thanks for inviting TVSA!




Replies: 5

You must be a TVSA member to post a reply
| | | | |
| --- | --- | --- | --- |
| Reply from: | makisto | | Tuesday, April 17, 2012 15:48 PM |
Thatha Cheesa for dressing up and all lol
| | | | |
| --- | --- | --- | --- |
| Reply from: | PruLuv | | Wednesday, April 18, 2012 03:41 AM |
Wow. So we had similar experiences, although Barcadi sponsored our drinks. Lol. We got tokens to buy drinks, so it was kind of a waste for us who don't drink. Eish, tell me again about that theme story, iProblem. Yeah, Barcadi should go BIG, what type of a birthday party was that?
| | | | |
| --- | --- | --- | --- |
| Reply from: | Cheesa | | Thursday, April 19, 2012 10:06 AM |
LOL we also got some token thingie to think that I was wondering what is that thing for! We didnt even ask what is it for! I still have that token thingie at home *sigh* they didnt even tell us what is it for! Yah that theme thing was just not on!

lol maki blame the instruction on the invite!
| | | | |
| --- | --- | --- | --- |
| Reply from: | myname | | Thursday, April 19, 2012 14:56 PM |
I wouldnt mind to kiss Micasa's lips (the white boy).....mmmhhhhhmmmm. You will forgive me guys i just love kissing shame mna.

Poppy has the BODY shame.

Hi Mchisana, plz pass that dress my baby.
| | | | |
| --- | --- | --- | --- |
| Reply from: | Cheesa | | Thursday, April 19, 2012 15:10 PM |
LOL myname I knew coming here I would laugh! Uzoyifumana sana le dress tltltltl

LOL nawe uthi uJ something ngu MiCasa my friend kept on saying ngu MiCasa naye I had to explain uba yigroup iMiCasa not the white guy LOL!